Access Control
Secure your workplace with integrated Contactless Access System (*Available in Australia only)
Secure your workplace with smart access technology
Koyyo offers a fully automated and contactless Access Control solution that secures your premises from unauthorized entry and makes authorized entrance simple, efficient, and warm. With integrated relay controllers and facial recognition technology, the system automatically unlocks doors or gates for authorized people, such as employees, residents, Visitors, etc.
Easy biometric door access control system
Koyyo's solution integrates easily with all electronic entry points, whether doors, or gates, or booms. Once within range of the access-controlled biometric machine with facial recognition, authorized personnel are given swift access from restricted entrance. The highly-responsive automated process allows a free flow of access, saves time, and saves the need for staff to man entrances. Removing any chance of human error, you can confidently trust that access will only be granted to those that are authorized.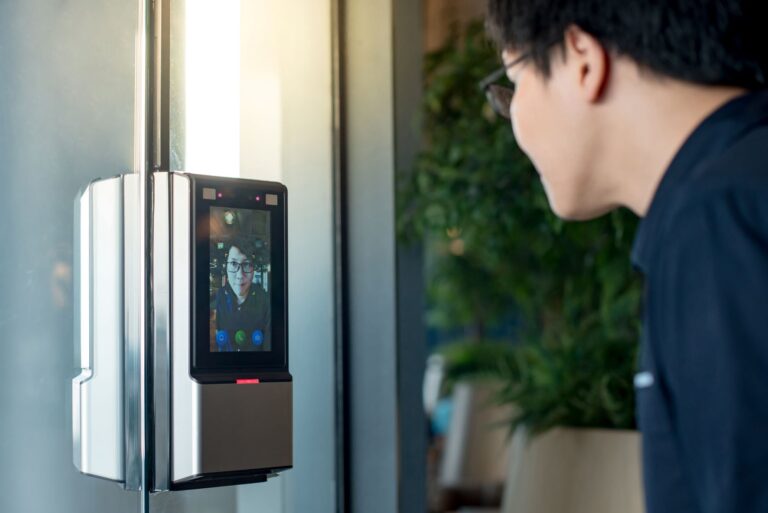 Capture precise data for every impression
Koyyo's access system not only makes authorized access easy, but it also records robust data that is 100% accurate, reliable, and automated. With every entry and exit, the system takes a clear-to-view snapshot of the individual and records the time. This easy-to-Secure Access Control data is automatically logged and our powerful back-end system makes it stress-free to look up records, even years later. Unlike manual sign-in systems, our solution provides trustworthy data with actual high definition images of the visitor, together with a reliable automated time stamp. Seeing is believing!
Preauthorize your visitors
Koyyo warmly receives your pre-authorized visitors by allowing them to securely access the premises. It also securely stores the records of visitors. It offers a simple, yet feature-laden visitor management system that helps in tracking the visitors who have access to the secured premises.
Get started with Koyyo today!
Enter the new age of AI-driven solutions which are customized to suit your needs and help you grow effortlessly.